Both large and small companies stress the importance of building a cohesive team from the ground up. This can mean in a department or across departments. One way to encourage excellent teamwork is to institute periodic fun group activities. These fun team building activities can be a yearly thing, or you can do them on a smaller scale more times during the year. We're going to outline why group activities are important before giving you several team building activity ideas you can try. 
Why Team Building Activities are Important 
Team building activities are important, no matter how small or large your business is. They come with several benefits that can strengthen your department as a whole. And these benefits include but are not limited to: 
Open Communication – Fun group activities make your employees have good communication. They have to communicate with each other in order to complete the group activities, and this also allows them to interact with everyone. 
Motivates Employees – Team building activities and team leadership go hand in hand. The more comfortable each of your employees is when they express their opinions or ideas, the more confident they grow. In turn, this motivates them to work on more items and meet more challenges. 
Creativity Promotion – Taking your employees outside of the office setting and immersing them in fun team building activities forces them to think outside of the box. Working both together and with their teams will help them come up with fresh ideas and ignite their creativity. They can form great ideas to bring back to the office. 
Encourages Problem Solving Skills – In certain work environments, a crisis can happen seemingly out of nowhere. Fun group activities make coworkers solve problems by working together. This can encourage them to think strategically and rationally. Teams that are able to successfully find a problem when it arises and know how to solve it can take charge when your office experiences a crisis. 
Breaks Barriers – When your employees take part in fun activities together, it starts to build the trust factor between them. There is often a disconnect between employees and the leadership team in corporate settings because there is too big of a gap between the two groups. Team building activities give the leadership team a chance to be colleagues rather than superiors, and this can boost your employee morale throughout the departments.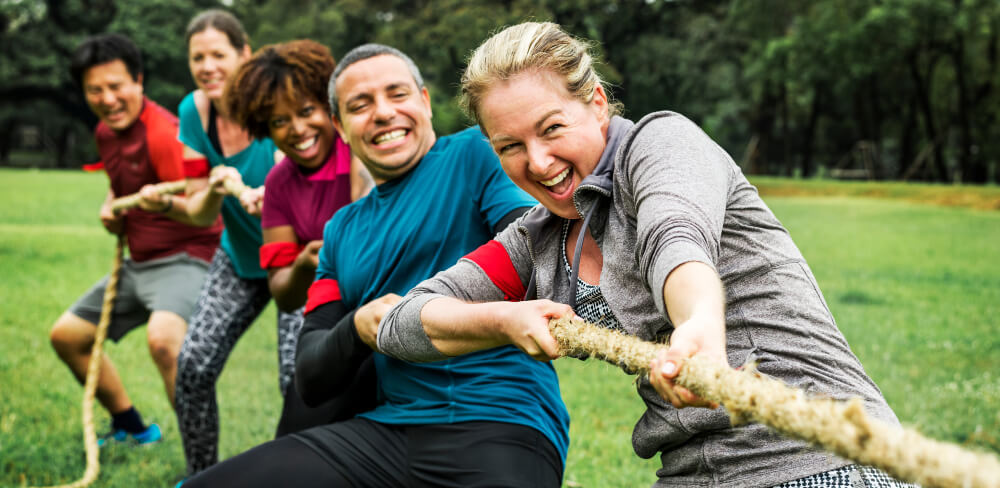 10 Fun Team Building Activity Ideas
Now that you know the five big things that team building activities for work can bring to your company or business, we'll lay out several team building challenges you can try with your own employees. Not all of them may fit your situation, but we're willing to bet you can find at least one or two to try. 
1. The Common Book 
One no-pressure way to get to know more about your employees is to institute the Common Book. You get a large blank journal or book and set it in a common area where everyone can access it. You can write suggestions or prompts and invite your employees to spend time filling it in. Keep markers, pens, glues, decorative tapes, and whatever else you can think of close to the book. Encourage your team to paste, write and cut the book to create a fun history of your business through the employees' eyes. 
2. Blind Drawing 
Blind drawing is a team building activity idea that encourages great communication. Divide your employees up into teams of two people and have the players sit back to back. One member of the team gets a picture or object. Without directly naming the item, the person has do describe it for their partner. The partner must draw the image based on the instructions from their partner. The team closest to the correct answer wins. 
3. Scavenger Hunt
This is a classic group activity that encourages both creative thinking and teamwork. You can put together a list of items that your employees have to locate. You can pair staff members together, form groups, or have them work individually. The first person or people to collect everything on the list and bring it to you wins. If you want to make it more difficult, make riddles or clues to what the items are instead of naming them. 
4. Escape Rooms 
Escape rooms are quickly becoming very popular day retreats for team building challenges. Basically, you take your team to a designated area and they'll enter a room or obstacle course. Your team has to work through the room or area using clues to unlock the next part of the challenge. The goal is to work together to make it out of the escape room before the time is up. If you don't make it out, you lose. Escape rooms vary from 20 to 30 minutes up to a few hours long, and they're excellent for both large and small groups. 
5. Murder Mystery Events 
Who did it? Murder mystery events are like a live-action game of Clue. Your employees will move through rooms and get clues that will lead them to the killer. This type of team building challenge encourages critical thinking and problem-solving skills among team members. You use the process of elimination to come to your conclusion. If your team gets the right answer, you win the game. These events are usually a few hours long depending on the difficulty level. 
6. Amazing Race 
The Amazing Race is an event that gets people out and about. You can choose a fun location like a park or a zoo and hide puzzle pieces. Split your employees up into teams and give them maps that outline the first piece. Once they find it, they'll get another map that takes them to another challenge that'll unlock the next puzzle piece. Once they get all of the pieces, they can put the puzzle together and come to a set spot. The first team to make it with the puzzle wins the game. It encourages communication, teamwork, and problem-solving skills. 
7. Three Truths and a Lie
A fun way to get to know your employees is playing Three Truths and a Lie. You can break your team up into groups and give each person four sheets of paper. On three sheets of paper, the employees write a single truth per piece. On the final sheet of paper, the employee writes a lie. Everything should be professional and believable. Once everyone has their four sheets of paper filled in, each member should read each truth and the lie out loud in random order. The other employees have to guess which is the truth and which is the lie, and why. Whoever guesses the most correct, wins. 
8. Throw an Office Party
Throwing a party for your office out in a park or in an area away from the work environment is an excellent way to get everyone to relax and mingle. You could even ask everyone who wants to contribute to bring a dish or a dessert to share. This allows them to show off their cooking skills and have fun sampling new foods at the same time. You can also bring favourite lawn games and challenge your employees to a few team games. 
9. Go Tree Surfing 
Build trust in your employees and face your fears with a two-hour tree surfing extravaganza. Your team will have to work together to help one another to climb through a range of challenges and get over obstacles. Every employee will get a safety briefing prior to the course, and they'll spend hours bonding, having a good time and challenging themselves. It's even better when there are some fabulous prizes at the end of the event. 
10. Pizza Making Challenge
Challenge your employees' culinary skills with a fun pizza making team building challenge. Have your employees split into teams and come up with the most delicious and unique pizza possible. At the end of the event, the teams can present their creations for an appointed panel of judges. The winning team will get prizes and the title of Pizza Chef Champion! This hands-on workshop is excellent for people of all skill levels, and you'll get to sit down to a delicious lunch after the event. 
Why Use a Team Building Company for Your Next Group Activity!
A team building company excels in creating fun and engaging team building activities. MPT Corporate Events has years of experience in designing and tailoring team building activities for work colleagues at both small and large companies. 
If you'd like to set up your own team building activities with our help, get in touch. We're ready to answer your questions, address your concerns and find the perfect event for your staff to participate in and enjoy. We can't wait to hear from you!